Volusia Libertarians Support Wiseman, A2 at Rally in Tally
Posted On April 17, 2018
Tallahassee, Fla. – LPVC EC Members joined Libertarians from throughout the state Saturday to support LP Candidate for Governor Randy Wiseman and to voice their outcry against the recent passage of CS/SB 7026.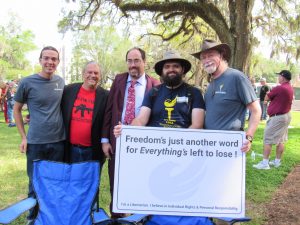 "Us Libertarians have a saying, 'If you step in front of my liberty, you have a problem,' " Wiseman told the rally. "But we'd like to come up with solutions. There comes a time we the people have to stand up for themselves. There comes a time when a nation has to stand up for themselves. And now is the time."
Several hundred Second Amendment supporters met in front of the steps of the Florida Historic Capitol Museum to support Second Amendment Rights, including the right to open carry firearms. The afternoon was one of several "National State Capital Stand for Your Rights 2A Rally" events held nationwide Saturday.
Many here were angered by last month's passage of the "Marjory Stoneman Douglas High School Public Safety Act" which blocks firearm sales to anyone under the age of 21, bans the sale or possession of bump stocks and other provisions. LPF EC Members Philippe Cadorette, Joshua Folsom and Chris Rose II handed out fliers listing state Legislators who supported CS/SB 7027.
"There is a list of people on there that I will do the best of my ability to assure they are out of office in the next years, said Wiseman.